Rohit Singh speaks in an accent that's markedly different from his mother's.
He's a second-generation Indian immigrant living in Mornington Peninsula, a beachy cape that's about an hour's drive from Melbourne.
Over the past two years, he has been helping his parents run Avani, a boutique winery they founded after migrating to Australia in the 1990s.
Mr Singh says that in the past decade, the South Asian community in Melbourne has burgeoned, so Avani has started hosting wine pairing events that spotlight Indian dishes – meen pollichathu (a baked fish recipe from southern India) is served with Pinot Gris; dal makhani (a slow-cooked, creamy black lentil dish) is paired with a Pinot Noir.
The chefs and restaurateurs behind these experiments are among more than 710,000 Indians who live in Australia, one of the world's biggest "immigrant nations". Their numbers have been increasing rapidly over the past few years – according to the country's last census, Indians are now the second-largest migrant group in Australia, having overtaken the Chinese and second only to the English. The new wave of Indian immigrants has largely been driven by the tech sector, as the country has a high demand for skilled workers.
Aarti Betigeri, a journalist who is currently editing an anthology on the experiences of Indians growing up in Australia, says that when her parents moved there in the 1960s, Indians were hardly a part of public life. "It was rare to find another Indian on the street," she says.
Today, things are different. "They're in jobs across sectors, run their own businesses and are even entering politics," she says.
The recently-elected New South Wales government has four Indian-origin politicians, including Daniel Mookhey, who in March became the first politician of Indian origin to become the treasurer of an Australian state. There is still a long way to go, though – Indian-Australians, along with others with a non-European lineage, are still underrepresented in politics, especially at the federal level.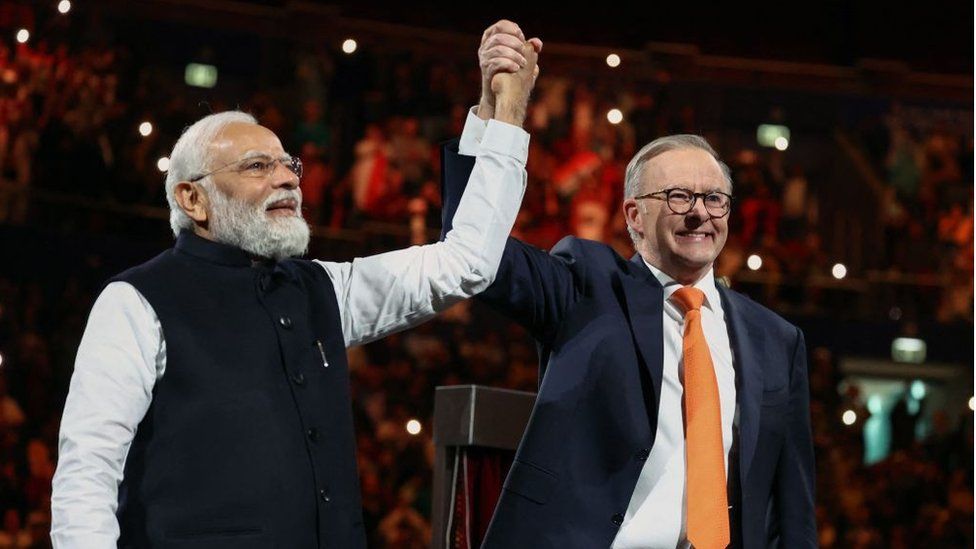 Ms Betigeri says that soft power exports have played a powerful role in uniting the two countries. At a recent rally in Sydney – which was attended by thousands from the Indian diaspora – Indian Prime Minister Narendra Modi spoke about how the TV show MasterChef Australia, cricket and films were bringing people together.
Experts say that his Bharatiya Janata Party (BJP) government, which has been in power in India since 2014, has played a key role in strengthening bilateral ties. Mr Modi's visit to Australia in November 2014 was the first by an Indian prime minister in nearly three decades.
During his recent visit to Sydney in May, the two countries announced a migration deal to make it easier for students, academics and professionals to travel and work in India and Australia. They also restated their commitment to concluding a comprehensive economic co-operation deal – which is set to build on the outcomes of an agreement signed last April.
In March, Australian Prime Minister Anthony Albanese paid his first official visit to India since entering office, and the two prime ministers discussed defence and security, economic co-operation, education and bilateral trade.
"The frequent meeting of the prime ministers and ministers has deepened bilateral ties that was not seen in earlier days," says Pradeep S Mehta, who works at CUTS International, a global public policy research and advocacy group.
Observers say that this partnership is being seen as beneficial to both nations, who are also part of the four-member Quad grouping aimed at constraining China's dominance in the Indo-Pacific region.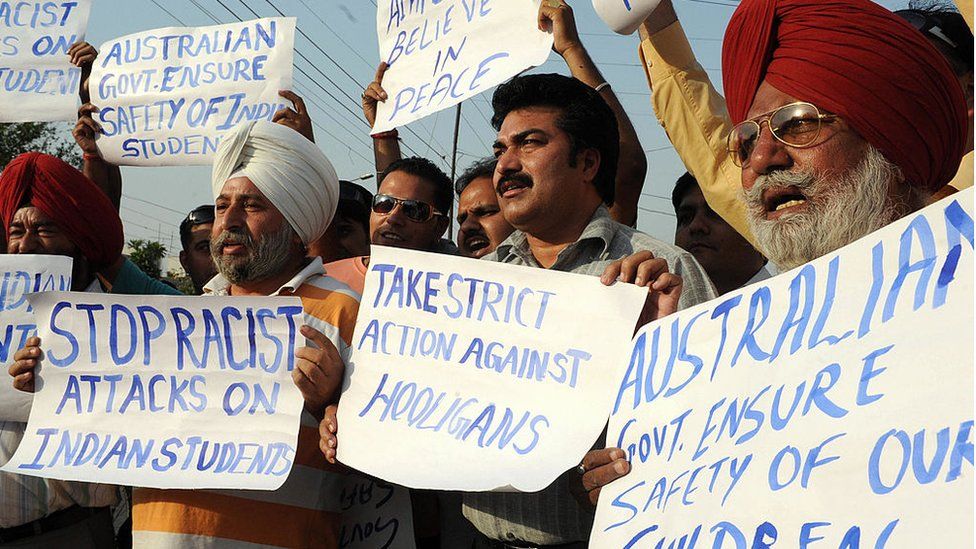 While the connection between India and Australia dates back millions of years – a supercontinent called Gondwana once physically connected the two present-day nations – the history of Indians migrating to the country is far more chequered. Early immigrants arrived in Australia in the 1800s as labourers or servants of British subjects moving from India.
In the 1900s, a broader range of Indians began migrating and their numbers significantly increased after the White Australia policy – a racist law that limited non-white immigration – was scrapped in 1973.
"Even then, Australia remained choosy with the kind of migrants it welcomed; only skilled migrants, like tech workers, doctors, nurses and academics were welcomed, and that too on a very small scale," says Jayant Bapat, a researcher who has co-authored a book on the Indian diaspora in Australia.
The real game-changer came in 2006, when the John Howard-led government opened Australia's doors to Indian students and introduced policy measures that made it easier for them to get permanent residency.
"Indian students still form a very large part of temporary migrants. After they get their degrees, many of them are allowed to settle in Australia," Mr Bapat says.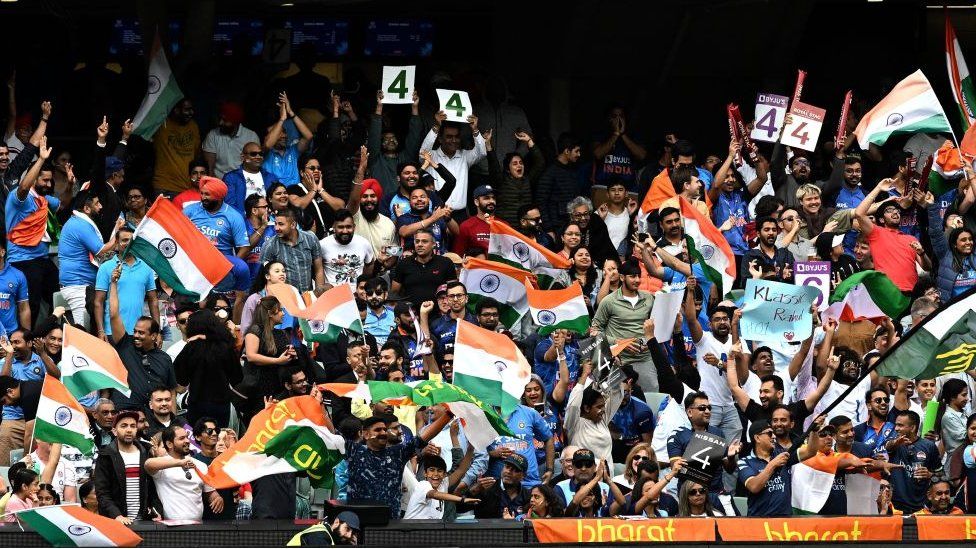 But there were tensions as well. In the late 2000s, a number of violent attacks on Indian students in Sydney and Melbourne made global headlines.
Scores of Indian immigrants took to the streets in protest, India reacted sharply and the Australian government took steps to address the situation. Stray incidents of violence are still reported occasionally.
Supporters say that immigrants from Asian and South Asian countries bring much-needed multiculturalism to Australian society and have helped the economy grow. But some opposition politicians have criticised Australia's migration policies, saying that immigrants with lower wages take away jobs and stretch resources.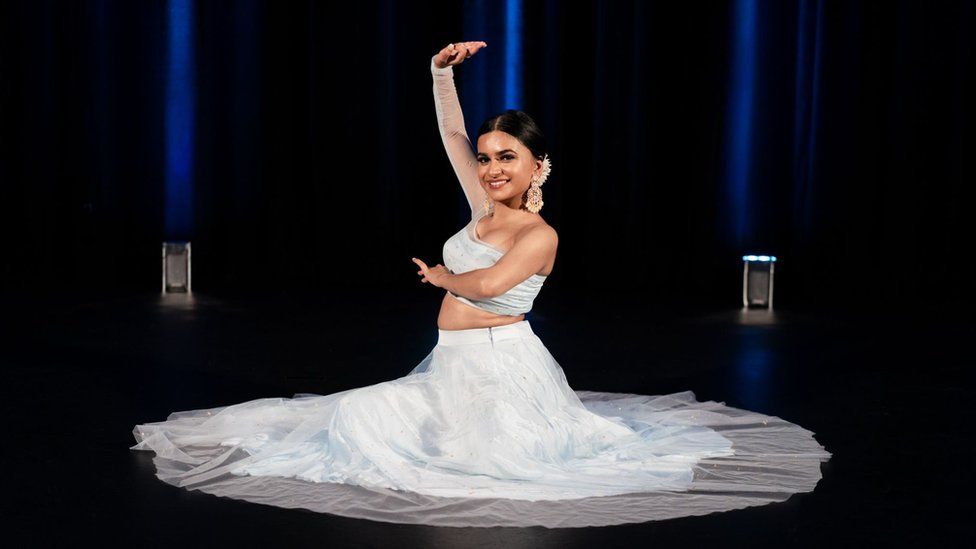 Some from the Indian community say that they are trying to make Australia more inclusive by educating people about their culture and heritage.
Divya Saxena, 24, who has grown up in Sydney, wants to make Indian classical dances like Kathak and Bharatnatyam more mainstream in Australia.
She says that Sydney has a flourishing community of Indian-Australian creatives like her who are striving to "break stereotypes" around the South Asian community and support each other's businesses.
Ms Saxena recently choreographed a dance routine for Rowi Singh, an Indian-Australian makeup influencer who creates vibrant looks inspired by her South Asian heritage.
"Our parents' generation started from scratch here; their focus was on holding on to stable jobs so that they could give their children a better life. So they put their heads down and tried to blend in. But people of my generation don't have to shoulder such a burden," Ms Saxena says.
"We're free to pursue our passions, and many of us are trying to make Australia an even more welcoming place for future generations."
By Cherylann Mollan for BBC News